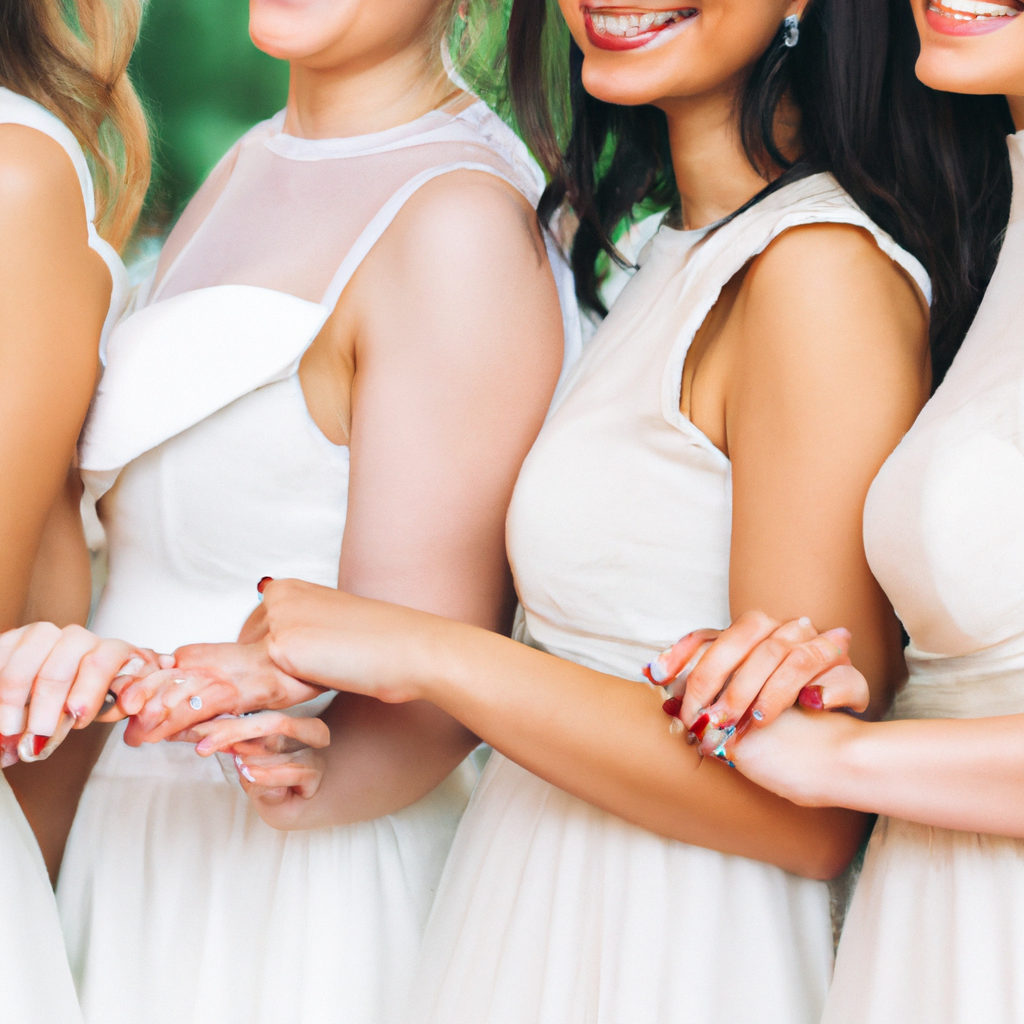 When picking dresses and attires for your bridal party, keep some things in mind. Firstly, pick a color that goes with your wedding's palette. Then, think about the style of your dress and pick ones that match or go with it. Also, think about your bridesmaids' likes and body types. They should feel comfy and confident. Accessorizing should be simple and coordinate with the overall look. Lastly, don't forget about the groomsmen. Their suits or tuxes should fit with the bridal party's look. With these tips, you'll have a pretty, coordinated look for your wedding party on your special day.
Understanding Your Bridal Party's Individual Styles
Choosing for your bridal party? Consider each member's personal style. Everyone is different, so pick out something that looks great on each. Think about the individual's style and go for clothing that makes them feel comfy and gorgeous.
Discuss preferred styles with each bridesmaid
Creating a stylish and uniform bridal party starts with understanding each bridesmaid's individual style. Here are a few tips:
Have a conversation with each bridesmaid about their preferences and dress styles they don't like.
Offer some flexibility in dress style and color, but keep it within your overall vision.
Look for dresses that flatter different body types and sizes. Or pick a specific color, length, or fabric for them to choose from.
Set clear guidelines and expectations for hair, makeup, and accessories. This creates a uniform look that complements each bridesmaid's style.
Remember, your bridal party is there to celebrate you. Make sure they feel confident and comfortable in their dresses!
Consider body types and sizes
When it comes to dressing your bridal party, body type and size are essential. Here are tips to help you with the perfect dresses:
Ask your bridal party for sizes in advance and have a range available on the day of the fittings.
Discuss preferences and take their feedback into consideration when choosing dress styles.
Opt for classic silhouettes, like A-line or wrap dresses, that flatter many body types and sizes.
Mix-and-match dresses in the same color palette to let your bridal party show individual styles.
Don't forget about accessories! Offer a variety of shoe styles or jewelry options to accommodate everyone's preferences.
Determine a cohesive look for the group
As a bride-to-be, you must understand and identify each bridal party member's style. To get a unified look for your big day, here are some helpful tips:
Choose a Neutral Shade: Start with black, navy, or gray for the dresses. That'll create a cohesive base.
Weather Friendly: Choose dresses that suit the weather and the venue. E.g. chiffon for hot weather, satin for colder weather.
Accessorize Wisely: Pick accessories that go with the dresses. Don't go overboard.
By following these tips, you'll make sure your bridal party feel confident and beautiful on your special day.
Colors and Fabrics for Your Bridal Party's Attire
It's major when deciding what color and fabric to clothe your bridal party in. Color, fabric type, pattern and season are all factors to consider. To make sure your bridal party look their best on your big day, these points must be taken into account.
Let's explore the key thoughts when making these decisions.
Choose a color scheme that complements wedding theme and season
Choosing the right color scheme for your bridal party's attire is key to a stunning wedding that your guests will remember. Here's what to consider:
Think of your venue, flowers and decorations when picking colors.
Also, think of the season: pastels and bright shades work best in spring/summer, while deeper hues suit fall/winter.
Choose fabrics that suit the scheme and theme. Light ones are great for spring/summer, while velvet or wool are better for winter.
Take into account the skin tone, hair color and personal preferences of your bridal party.
No more than 3 colors to avoid overwhelming guests.
Mix & match patterns and add metallic accents for a standout look.
Pro tip: Create a mood board or Pinterest board to help visualize potential color schemes and fabric combos.
Determine the type of fabric for bridesmaid dresses
Picking the ideal fabric for bridesmaid dresses is essential. Before settling on a decision, think about these tips:
Fabric texture: Chiffon and georgette are light, great for warm days or beach weddings. Satin and silk are heavier and apt for colder weather.
Fabric color and print: The fabric hue should match the wedding color palette. Printed fabrics can add charm and uniqueness to the bride's plan.
Fabric comfort: Fashionable, but comfort should be taken into account too. Bridesmaids will be wearing these dresses for hours, so the fabric should be soft and breathable.
Fabric durability: Look at the fabric quality to guarantee the bridesmaid dresses last beyond the wedding. Don't spend money on a dress that will break after one wear.
Traditional vs Modern Bridal Party Attire
Picking out clothing for the bridesmaids and groomsmen? To make the right decision, take into account the wedding theme, season, and how formal the occasion is. Then decide if you want to go for traditional or modern attire. Read on to learn the major distinctions between these two styles.
Consider traditional vs modern bridal party attire
Deciding between traditional and modern bridal party attire can be a challenge. But, understanding the key differences between them can make it easier.
Traditional attire typically includes formal dresses and suits that have a strict dress code. These dresses prioritize modesty, elegance, and timelessness.
Modern bridal party attire is all about individualism, boldness, and often ignores dress codes. Dress styles, colors, and trends are set by fashion influencers, celebrities, and social media fashionistas.
When picking the perfect dresses and attire for your bridal party, consider the wedding theme, venue, and season. Traditional attire may be better for classic, formal weddings. For a beach or destination wedding, a more modern and relaxed style may be better.
Whatever you choose, be true to yourself, follow your heart, and enjoy your special day.
Mix and match pieces for individualized looks
Mix & match pieces for an individualized look with a cohesive vibe. Here's a few tips:
Traditional: Stick to one color palette/pattern. Allow varying styles & silhouettes.
Modern: Mix different colors & textures. Go for non-traditional pieces like jumpsuits or separates.
Pro Tip: Let bridesmaids choose their own dresses/attire within your guidelines for a personalized feel.
Choosing Accessories for the Bridal Party
Accessories – the last touch! For the bridal party, you need to keep the dress style and colour scheme in mind when picking accessories. Here are some tips: what accessories should you choose? And how to finish the look?
Select accessories that complement the bridesmaid dresses
Choosing the ideal accessories can make a big difference when it comes to a perfect bridesmaid look. The key is to pick pieces that accentuate the dresses, rather than overpower them. A few things to remember:
Less is more. Too many accessories can be distracting.
Match the metal. Choose pieces with the same metal as the dresses.
Necklines matter. Statement necklaces work great for strapless dresses. Delicate necklaces are perfect for high or cowl necklines.
Colors add flair. Solid or neutral colors go great with statement earrings, bracelets, or belts.
Hair accessories. Hairpins, clips, and combs that match the metal and style of the dress will look great.
Pro tip: Consider the bridesmaids' personal styles and preferences before selecting accessories. This will make them feel comfortable and confident.
Consider the bridal party's hair and makeup
When picking accessories for the wedding crew, consider their hair and make-up. This will give a neat, unified look. Depending on the hair and make-up for that day, some accessories might fit or not.
For instance, if the wedding party chose a subtle make-up, pick accessories with straightforward designs. However, if they went for a flashy make-up, use bold statement accessories.
The wedding party's hairstyle affects the accessory choices too. Updos and braids suit headbands, hairpins, and combs. On the other hand, free-flowing hair looks great with delicate, minimal accessories.
To finish, matching the bridal party's hair and make-up with accessories will heighten their look and the wedding's aesthetic.
Pro Tip: Make a mood board or visual inspiration board with hair, make-up, and accessories to imagine the final look.
Alterations and Personalization for Bridal Party Attire
Finding the perfect dresses for your bridal party is a must. To make them shine, alterations and personalization are key. We'll discuss how to tailor the dresses. Everyone will look amazing and feel confident.
Schedule alterations ahead of time
If you wish to customize the attire of your bridal party, you must plan carefully. Here's what to do:
Research and pick a trustworthy tailor or dressmaker in advance. Check if they have knowledge and skill for the alterations you want.
Book appointments for each bridesmaid 3-6 months before the wedding.
Be clear with your tailor/dressmaker about your preferences and details. Give them photos and ideas if needed.
Schedule a fitting a few weeks before the wedding to get the perfect fit and make any last changes.
Planning early and communicating with your tailor/dressmaker will help your bridal party look amazing and be comfy on your big day. Tip- Always account for potential delays, and have an alternate plan for emergencies.
Personalize bridal party attire with monograms or embroidery
Make your special day even more unique by personalizing bridal party attire with monograms and embroidery. Here are some ideas:
Embroider each bridesmaid's initials on the hem of their dress or on a patch.
Monogram each bridesmaid's robe or shawl for getting ready.
Add a monogram or embroidered detail to the groomsmen's suits or ties.
Monogram the bride's veil or clutch for a personalized touch.
These personalization tips will make for stunning photos and unforgettable memories.
Make sure each bridesmaid feels comfortable in her dress.
Finding the right dresses and outfits for your bridal party can be tricky. However, it's essential to make sure each bridesmaid is comfortable in what they wear on your wedding day. Customization and alterations are essential for making them feel great.
Here are some tips:
Take exact measurements. Let a professional measure each bridesmaid to guarantee a perfect fit.
Allow changes. Give bridesmaids the option to customize aspects like neckline, sleeve length, or material.
Think about alterations. If the dress doesn't fit perfectly, try professional alterations.
By taking these extra steps and guaranteeing comfort and confidence, you can make your wedding day more relaxed and enjoyable for everyone.
Frequently Asked Questions
Q: What should I consider when choosing dresses for my bridal party?
A: When choosing dresses for your bridal party, consider the overall style of your wedding, the formality of the event, and the body types and preferences of your bridesmaids.
Q: Should all the dresses in my bridal party match?
A: It's not necessary for all the dresses in your bridal party to match. You can opt for different styles in a cohesive color palette or allow your bridesmaids to choose their own dresses within certain guidelines.
Q: How far in advance should I start looking for dresses for my bridal party?
A: It's recommended to start looking for dresses for your bridal party at least six to eight months before the wedding to allow time for ordering, alterations, and any unforeseen complications.
Q: How do I choose the right color for my bridesmaids' dresses?
A: Consider the season, venue, and overall color scheme of your wedding when choosing the color for your bridesmaids' dresses. You can also draw inspiration from your bouquet or other decorations.
Q: How do I ensure that all of my bridesmaids are comfortable in their dresses?
A: Consider the different body types and preferences of your bridesmaids when choosing dresses and allow for minor alterations or customizations to ensure that everyone is comfortable.
Q: What accessories should my bridesmaids wear with their dresses?
A: The accessories your bridesmaids wear should complement their dresses and the overall style of your wedding. Simple jewelry, a clutch, and comfortable shoes are all great options.