Bridal Beauty Tips on How to Create Stunning Hair and Makeup Looks for Your Bridal Party
|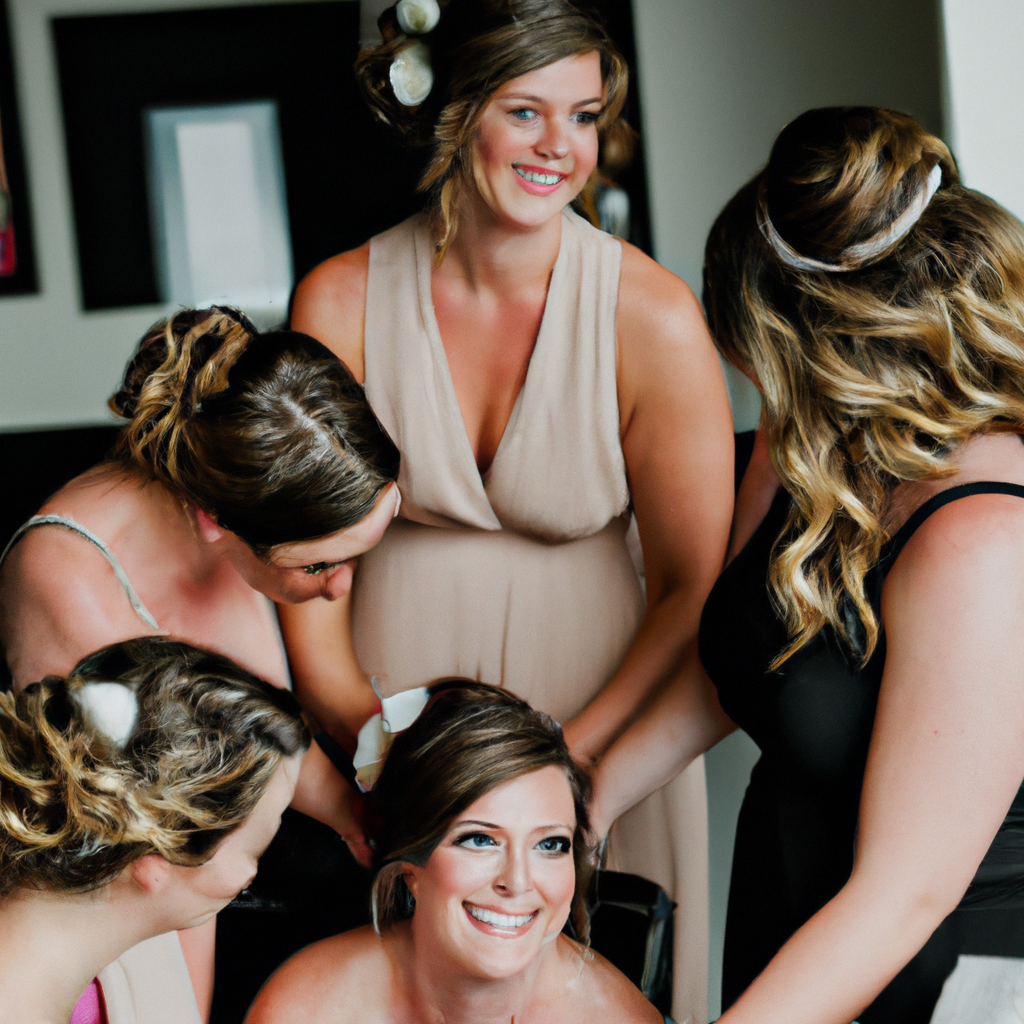 Hair and Makeup Preparation
'Tis important to make your bridal party look their finest on your big day. We've got tips to help you create beautiful hair and makeup looks. Get the right products, plan a timeframe and understand how to do it right! Here's all the deets you need to know.
Create a Beauty Timeline
Planning a wedding can be stressful. But, creating a beauty timeline can make prepping your hair and makeup, as well as your bridal party's, a breeze. Follow these tips to make a good beauty timeline.
6 months prior:
Start a skincare routine.
Book hair and makeup trials.
3 months before:
Finalize look.
Book hair and makeup artists.
Schedule any necessary appointments.
1 month before:
Have a trial to make sure the look is perfect.
Confirm all appointments for you and bridal party.
Wedding day:
Artist arrives early.
Make sure there's enough time for everyone's hair and makeup.
Pro-tip: Have a backup plan in case something goes wrong.
Conduct Hair and Makeup Trials
Before the wedding, it's must-do to have trials for hair and makeup. This way, the bride and her bridal party will look beautiful. The trials let them try different looks that'll match the gown, wedding theme, and each bridal party member's style.
The bride can tell her preferences, worries, and allergies. The hairstylist and makeup artist will recommend styles that suit her features, skin tone, and hair type. The trials also help with timing and product selection for the big day.
Pro Tip: Have the trials several months before the wedding!
Schedule Spa Services
Scheduling spa services is a must for the bridal party's hair and makeup. Facials, massages & more! Here are some tips:
Book a facial 2 weeks before the wedding – no redness or irritation.
Get a massage a few days before – relieves stress & tension.
Do hair & makeup trials early – find the right look.
On the big day, leave enough time for hair & makeup – avoid last-minute stress.
With the right preparation, spa services will help you & your bridal party look gorgeous!
DIY Hair and Makeup
Doing your own hair and makeup for a wedding or for the bridal party can be intimidating. However, with the right resources, tricks and methods, you can craft gorgeous looks that will amaze. We'll give you all the tips you require to do your own hair and makeup and make sure your wedding party looks flawless.
Natural Makeup Look
A natural makeup look is ideal for a subtle and graceful bridal party. Here are some tips for creating a stunning look:
Start with a liquid foundation, light to medium coverage.
Use neutral eyeshadows in matte textures to give a subtle definition to the eyelids.
For the eyelashes, go for length, not dramatic volume.
Lightly apply a natural-looking blush shade to the apples of your cheeks.
Finish with a nude or light-pink lipstick or lip gloss with a silky texture.
Minimal and elegant to bring out the natural beauty of your bridal party!
Glamorous Makeup Look
To make a glamorous makeup look for your bridal party, balance colors and textures that flatter each person's features and style. Follow these tips:
Start with a clean, moisturized face.
Put on a primer to even skin tone and help foundation stay.
Choose colors that fit each person's skin tone and dress color. E.g. warm earthy tones for olive skin and bold red lips for navy dress.
Emphasize each person's best feature – eyes, cheekbones or lips.
Use long-wearing formulas and finish off with a setting spray.
Pro Tip: Hire a professional makeup artist to create a unified bridal party look.
Updo Hairstyles
Updos are the epitome of timeless elegance for bridal parties! Create a stunning look with just a few simple items. Here's how:
Wash and blow-dry your hair for volume and texture.
Choose the style you want – chignon, bun, or French twist.
Secure with bobby pins, ties and hairspray, plus accessorize with a tiara, headband or flowers.
To finish the beauty look, use primer and foundation, and add a pop of color with blush and lipstick.
Pro tip: Practice the updo before the wedding day – to make sure it's comfortable and will match your dress and face shape.
Hiring Professional Hair and Makeup Artists
Professional hair and makeup artists should be your top choice when it comes to making your bridal party look stunning. They have the experience and expertise to make everyone look their best for your special day. Here's why it's beneficial to hire professionals and tips on choosing the right ones:
Research and Recommendations
Hiring professionals for your bridal party's hair and makeup? Do research and get recommendations. Here's how:
Look up artists online. Read reviews to check work quality, style, and cost.
Ask family, friends, and your wedding planner. Get experienced artist recommendations.
Schedule a trial run. Ensure their style and technique match your vision.
Take the time to do research. Then you'll be set for success for your bridal party's looks.
Pricing and Budgeting
When it comes to hiring hair and makeup artists for your bridal party, pricing and budgeting are key. Here are some tips to keep in mind:
Research: Find specialists in wedding hair and makeup. Read reviews and check out their portfolio.
Inquire: Ask for a quote. Ask about what it includes, like number of artists, travel fees, and trial runs.
Negotiate: If the quote is too much, see if they offer package deals or discounts.
Prioritize: Decide which services are most important, like hair styling or makeup, and allocate your budget accordingly.
Follow these tips and you'll create stunning looks while staying within your budget. Don't forget to factor in gratuity for the professionals!
Contract and Communication
For a successful wedding day, clear communication and a contract are key. Here are some tips:
Research and look at portfolios of potential hair and makeup artists.
Schedule a trial session. Take photos of the final looks.
Discuss costs and services. Make sure they're in the contract.
Share contact details.
Pro tip: Hire recommended artists for professionalism and experience.
Handling Bridal Party Requests and Preferences
Managing bridal party requests can be tough. When different members have different looks in mind, it's key to figure out what each wants. Then, create a look that accommodates everyone's needs. All the while, the bridal party should present a unified appearance. Let's explore how to achieve this!
Color Scheme and Coordination
Choosing the right colors & coordinating them well is essential to create a stunning look for the bridal party's hair & makeup. Here are some tips:
Start with the bride's look to decide the theme & style.
Consider the dress colors & styles of bridesmaids to choose a complementary color scheme for makeup & hair.
Try different combos to suit skin tones & features.
Keep makeup & hair looks consistent, but allow for personalization.
Don't be scared to experiment with shades, textures & styles.
Pro tip: Book a trial session with your stylist to experiment & finalize the color scheme before the big day!
Individual Styles and Personalities
When it comes to bridal party hair and makeup, it's important to understand individual styles and personalities. As a stylist, you must make a unified, stunning look that fits the bride's vision, while still letting each person's individual style shine.
Here are tips to keep in mind:
Consult each person individually.
Create a cohesive look that matches the bride's vision.
Incorporate touches to show each person's personality.
Use high-quality products and techniques.
Goal: Make everyone feel beautiful and confident, but still follow the bridal style.
Pro Tip: Schedule a trial run for each bridal party member – this will make the wedding day seamless and stress-free!
Bridal Party Gifts and Thank You Notes
When it comes to bridal gifts and thank yous, balance is key. Here's how to handle requests:
Have a chat with your girls. Ask about their preferences and budgets.
Opt for personalized, thoughtful gifts that match their personalities and tastes.
Write heartfelt thank-you notes to express your appreciation.
Time for bridal beauty! Prepare your skin. Select hairstyles and makeup that suit your bridal party's features and outfits.
Hire a pro hair/makeup artist for a flawless look that lasts.
Above all, make sure to have fun with your bridal party!
Hair and Makeup Tips for Bridal Party Members
Your wedding day is special, so your bridal party should look beautiful too! To achieve this, you'll want to focus on their hair and makeup looks. Here are some tips from experts to create stunning looks that will make your bridal party look amazing!
Skin Care Preparation
Wedding makeup starts with prepping your skin! Here's your must-do skin care guide for your special day:
Cleanse twice daily with a gentle cleanser to remove makeup and dirt.
Exfoliate once or twice a week to remove dead skin cells and open clogged pores.
Use toner to balance pH levels and take away any leftover dirt and oil.
Put on serum to target problem areas and hydrate.
Moisturize to keep skin hydrated and soft.
Use eye cream to minimize puffiness, dark circles, and wrinkles.
Put on broad-spectrum sunscreen with at least SPF 30+ to defend against UV rays.
Getting your skin ready ensures bridal makeup lasts all day and looks beautiful in pictures!
Curly and Textured Hair Styling
Curly and textured hair need special techniques to achieve beautiful hairdos, especially for bridal party members. Here are some tips to help you:
Use sulfate-free shampoo and conditioner to clean the hair.
Detangle it gently with a wide-toothed comb or brush while wet, to avoid frizz and breakage.
Put on a leave-in conditioner to moisten and soften the hair.
Use a diffuser to dry it – scrunch it occasionally to get volume and definition.
Try different hairstyles that suit your texture, like braid-outs, twist-outs or updos.
For makeup, choose products specially made for curly and textured hair such as curl defining gels, mousses and oils, for shine and hold.
Every hair is different – so customize the look for each bridal party member to fit their hair type and style.
Pro tip: Hire a professional hair stylist and makeup artist for the perfect bridal party look.
Accessorizing and Touch-up Techniques
Accessorizing and touch-up techniques are key for a stunning bridal party look that lasts. Here are some hair and makeup tips to create the most beautiful looks:
Begin with a clean face: Cleanse and hydrate, then use primer before applying makeup.
Get the right foundation: Match the skin tone and type of bridal party members.
Define: Use contouring and highlighting to add dimension to the face and show off features.
Accessorize: Hairpins, combs, and headbands bring elegance to any hairdo.
Touch-ups: Keep lipstick, powder, and blotting paper on hand for quick fixes.
These tips help ensure your bridal party looks and feels their best, so you can make unforgettable memories.
Frequently Asked Questions
1. What should I include in my bridal beauty regime?
A: It's important to start with a healthy skincare routine, followed by a hair care routine. Incorporate a nourishing hair mask to your routine to keep your hair silky smooth. Begin experimenting with makeup ideas well before the wedding day to determine what suits your skin tone and personal style.
2. Should I consider booking a trial appointment with the makeup artist?
A: Absolutely! It's always best to test out the makeup look you want for your big day. Book a trial appointment with your makeup artist to ensure they understand your preferences and vision. You can also make any necessary changes during the trial session.
3. How can I ensure my hair will stay in place throughout the day?
A: Discuss this with your hair stylist prior to your wedding day. If you're wearing your hair down, use a hairspray that ensures a firm hold. If you're opting for an up-do or braids, use bobby pins or hairpins that match your hair color to keep everything in place.
4. What makeup products will keep my makeup looking fresh all day long?
A: Primer should be your go-to product before applying any makeup as it provides a base for your makeup to stick to. Make sure to use a long-wear foundation, a water-resistant mascara, and a setting powder to keep everything in place for an entire day.
5. Should bridesmaids have the same hair and makeup look?
A: It's not necessary to have the same look. Allow each bridesmaid to pick their own style based on the bride's overall color scheme and personal flair. However, it's important to discuss these details with your bridesmaids beforehand to ensure everyone is on the same page.
6. Do I need to touch up during the day?
A: You might need to do some light touch-ups throughout the day to keep your makeup looking fresh. It's always a great idea to carry a compact powder, lipstick, and a blotting paper with you.