Tips for Planning the Perfect Bridal Party
|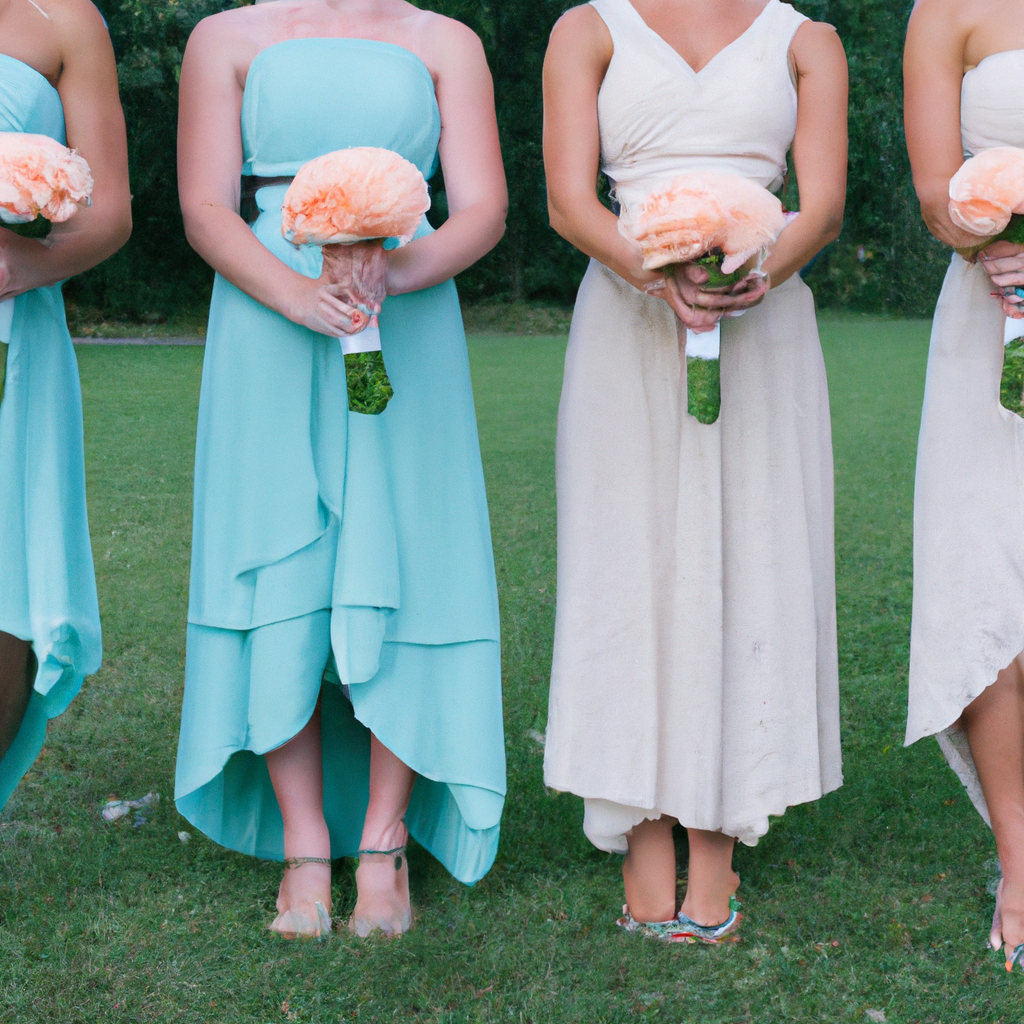 Create an unforgettable bridal party with these tips!
Set a Budget: Establish a budget and make a list of all needed items and their costs. You'll stay on track and save money.
Guest List: Consider the size of the venue, the number of guests, and the bride's interests when deciding who to invite.
Venue: Select a place that works for the party, like a restaurant, rented hall, or country club.
Activities and Games: Plan games, activities, and entertainment that match the bride's and guests' interests.
Food and Drinks: Choose a menu that fits your budget and is enjoyed by all. Consider a caterer or local restaurant.
Timeline: Develop a timeline for the party, including arrival, start/end of activities, and food service.
Pro Tip: Delegate responsibilities to help with planning and execution. This saves time and effort!
Choosing the Right Venue
Selecting the ideal spot for your bridal bash can be overwhelming. Size of the venue, amenities, and the overall atmosphere must all be taken into account. It's crucial to pick a place that fulfills all your needs for your big day. Here are some tips to help pick the right venue:
Identifying your guest list size
Planning a bridal party? Know how many guests to expect. Follow these steps:
Create a list of who you'd like to invite – bride and groom's family and friends. This gives a rough estimate.
Determine budget. This narrows venue options.
Send invitations. Keep track of RSVPs for an accurate count.
Being aware of guest list size is key. Ensure enough space for activities.
Determining your Budget
Picking the right spot for your bridal party? Budgeting is key. To stay within your means and have an amazing time, here's what to do:
List your party needs (guests, catering, decorations, etc.).
Look into different venues and their prices.
Apportion funds for each element of your party (venue, food, entertainment, decorations).
Remember to include taxes and service fees.
Adjust budget if necessary.
By keeping a budget in mind from the start, you'll be able to plan the perfect bridal bash without fear of overspending!
Shortlisting potential venues
Choosing the perfect venue for a bridal party is a must. Here are some tips to help you make your choice.
Set a budget: Establish how much you can spend on the venue. This will help narrow down your search and prevent you from choosing a place that's too costly.
Location and accessibility: Pick a spot that is easy to reach for everyone. Think about opting for a central location or somewhere close to a tourist attraction.
Check capacity: Ensure the venue has enough room for all your guests. You don't want them to feel too squished.
Check reviews: Have a look at what people said about past events at the venue. Look for places with consistently good ratings.
Think about amenities: Make sure the venue offers the amenities needed, such as catering, audio-visual equipment, and parking.
By following these tips, you should be able to find your ideal bridal party venue.
Selecting the Ideal Date and Time
Before you can begin organizing the best bridal party ever, you must decide the perfect date and time. The ideal date and time will depend on when most of the guests are available. Plus, what season you'd like the bridal party to be in and any special holidays or occasions to celebrate with the bridal party. Selecting the ideal date and time is the beginning of planning the perfect bridal party, so let's get started!
Consult with the bride-to-be
When organising a bridal party, it's important to collaborate with the bride-to-be. To pick the ideal date and time that will fit her wedding schedule. Here are some tips to help you!
Take into account the bride's wedding schedule. Choose a date and time that works well with it.
Ask the bride what she prefers. Date, time and location for the party.
Think about the guest list. Pick a date and time that works for everyone.
Plan ahead. Give the bride and guests enough time to prepare.
By consulting the bride-to-be and following these tips, you can make the bridal party a special and enjoyable event!
Align with guests' availability
Planning a bridal party? Here are some tips for picking the perfect date and time!
Send save-the-date invites at least 6 months ahead.
Schedule around holidays, family reunions, and sporting events.
Think of guests' commitments. Evening or weekend events work best if most have 9-5 jobs.
Don't go too late so they can still rest or go to work the next day.
When you have a few options, ask them which one works best for them.
Consider the season and weather
When picking the perfect day and time for your bridal party, season and weather are important. Summer and spring are the most popular wedding months due to great weather and outside venues. But, they are peak seasons, so prices are higher. Think of possible heat or rain if you have an outdoor event. Fall and winter are good choices if you want to save money. Cooler weather and seasonal themes can be a lot of fun. Make sure your guests can travel safely in winter. Have a plan in case of bad weather. Consider an indoor venue too, just in case.
Planning the Perfect Invitations
Crafting excellent bridal invites is key when organizing that special occasion. Put care and concentration into them, including the theme, dress code and things to do. Here are a few tips to make the perfect invites!
Design and Format
Design and format have a massive effect on the ideal bridal party invitation. Here are a few tips to help you make the perfect one:
Pick a theme – it will give the event an atmosphere and should be represented in the design and format of the invite.
Select the color palette – should match the theme and be used all the way through the invite.
Choose the font – should be legible and fit the aesthetic of the invite perfectly.
Include the key info – date, time, location, RSVP details, and dress code must be included.
Keep it simple and classy – no need for too many graphics or details, stay simple and elegant for a timeless look.
Pro Tip: Consider using an online invite service that offers adjustable designs and formats to save time and get a professional finish.
Date, Time, and Venue Information
Planning the perfect bridal party? Make sure your guests have all the info they need! Include the:
Date
Start and end time
Full address of the event
Any directions or parking info
Dress code (if any)
Pro tip: Include an RSVP date and contact details so your guests can easily respond and confirm. This'll help you plan better and avoid last-minute cancellations.
Accommodation and Transport details
Accommodation and transport are super important when planning the perfect bridal party. Making sure everyone's comfy and has a ride? Essential! Here are some tips:
Accommodation:
Select a hotel or rental that's centrally located and accessible.
Think about the amount of guests and their needs when booking.
Negotiate group rates if you're booking for lots of people.
Transport:
Hire a reliable transport service that fits everyone.
Get a party bus or limo for a luxurious experience.
Map out the route ahead of time to avoid delays and get everyone there on time.
Take the time to plan accommodation and transport and your bridal party will be fun and stress-free!
Creating a Memorable Theme
Planning a bridal party can be fun and exciting! Theme it up – this will help with décor and make coordinating outfits a blast. There are tons of themes to choose from, such as classic monochromatic or winter wonderland.
Let's explore the options, steps to plan and how to bring the theme to life on the big day!
Decorations and Colour scheme
Creating the perfect bridal party? Start with a theme! It should align with the couple's personalities, preferences, and wedding style. Pick a color scheme that goes with the theme and wedding colors. Get decor elements to match the theme and colors, like floral arrangements, personalized signs, lighting, and table settings.
Don't forget personal touches, too! Photos, anecdotes, and favorite quotes can add meaning. Following these tips will create a stylish and meaningful bridal party that leaves a lasting impression.
Entertainment and Activities
Planning a bridal party can be fun and exciting! Here are some tips to make the perfect theme:
Pick something that reflects the bride's likes and personality. Maybe her fave color, movie, book, or activity?
Decor and props should all fit the theme. Options include balloons, centerpieces, and signs.
Activities should be interactive. Maybe games, DIY projects, photo booths, or outdoor fun based on the theme.
Food and drinks should match the theme too. Think themed cocktails, snacks, and desserts.
By using these tips, you can craft a memorable and enjoyable bridal party with a personalized theme!
Catering and Beverages
A memorable bridal party needs the right catering and drinks. Here are 5 tips to plan a perfect theme:
Match the bride's style & personality.
Get a matching color palette.
Hire a caterer who can provide yummy food to fit any dietary requirements.
Pick a signature cocktail/mocktail to pair with the menu.
Add unique decor, e.g. flowers, table settings and custom favors.
Follow these tips for a great bridal party. Don't forget to hire a photographer to capture all the magic moments!
Bridal Party Favours
Say 'thanks' to your bridesmaids and groomsmen in a special way! Get them something memorable as a bridal party favour. Choosing the right one can be tough. Here are some tips to help:
Decide if you want something small or something more luxurious.
Select a favour that will be remembered.
Make sure it's special and meaningful.
Enjoy the hunt for the perfect favour!
Types of Favours
Bridal parties are a special occasion that every bride wants to remember forever. Planning a perfect bridal party? Show your appreciation to guests by giving out unique favours. There are several types to choose from!
Edible Favours: Homemade cookies, candies, chocolates & jams packed in boxes/jars with your initials.
Personalised Favours: Candles, coasters, key chains, wine glasses etc., with a personal touch.
Useful Favours: Hand sanitizers, hand creams & lip balms that guests can use later.
Eco-Friendly Favours: Potted herbs, personalized tote bags & seed packets to grow a plant.
Whatever you choose, make sure it reflects your personality & shows your gratitude.
Personalisation Tips
Make your bridal party favors extra special by adding a personal touch. Inspire yourself with the wedding theme, colors, or location and incorporate them into the favors. Add custom labels or tags with a nice message, date, or names and initials. Choose practical items, like tote bags or water bottles and personalize them with each guest's name or monogram.
Get creative and DIY favors, such as scented candles or homemade soap that show off your guests' personalities. Personalizing doesn't have to be expensive – just use some thought and creativity to make your guests feel appreciated and loved.
Budgeting and Sourcing Favours.
Bridal party favors are an essential part of any wedding. Budget and source them carefully to plan the perfect celebration without spending too much. Here are some tips:
Set a budget. Decide how much you can spend and stick to it. DIY options or bulk buying could give you a better deal.
Personalize the favours. Find meaningful or useful items your bridal party will appreciate, like personalized wine glasses or tote bags.
Shop around. Compare prices and quality from different vendors. Ask for samples or previous works to get the best value.
Plan ahead. Start sourcing your favours in good time to avoid last-minute stress and high prices.
Pro tip: Shop for your bridal party favors during off-season sales, or make them something special yourself!
Frequently Asked Questions
Q: How early should I start planning my bridal party?
A: It is recommended to start planning your bridal party at least six months before the wedding date. This will give you plenty of time to make arrangements and ensure that everything runs smoothly on the big day.
Q: Who should I invite to my bridal party?
A: Your bridal party typically consists of close friends and family members who will stand by your side on your wedding day. This can include the maid of honor, bridesmaids, and flower girls, as well as the best man, groomsmen, and ringbearer for the groom.
Q: What should I consider when choosing a venue for my bridal party?
A: When choosing a venue for your bridal party, consider the number of guests you will be hosting, the style or theme of the party, and your budget. Venues can range from restaurants and private clubs to outdoor gardens and rental spaces.
Q: How can I make sure my bridal party runs smoothly?
A: To ensure that your bridal party runs smoothly, it is important to communicate all details clearly with your guests and vendors. This includes providing a detailed itinerary, addressing any questions or concerns, and working with your vendors to coordinate logistics and ensure a cohesive event.
Q: What are some fun activities or games to include in my bridal party?
A: Some popular activities for bridal parties include wine tastings, spa treatments, cooking classes, and outdoor adventures. You can also include games such as bridal bingo or trivia, or plan a group activity like a scavenger hunt or karaoke.
Q: How can I personalize my bridal party to make it unique?
A: To personalize your bridal party, consider incorporating elements that are meaningful to you and your partner, such as favorite foods or drinks, special music selections, or personalized favors or decorations. You can also consider incorporating cultural or religious traditions to make your party more meaningful.